Click here to learn more about Nick Popaditch and his book Once a Marine.
Click here to purchase a signed copy of Gunny Pop's book.
MarineParents.com, Inc., a national support non-profit organization for deployed Marines and their families will be hosting our semi-annual banquet on Saturday, October 29 at 6:00 pm at the Courtyard Marriott in Columbia, Missouri.
Dress is business casual. There will be a cash bar.
Showcasing the MarineParents Purple Heart Hero Support™ initiative, our featured speaker will be Marine Gunnery Sergeant Nick Popaditch.
"Gunny Pop", while commanding his M1A1 tank, "Bonecrusher", in the Battle for Fallujah in 2004, was struck in the back of his helmet by a rocket propelled grenade (RPG). Having sustained life-threatening injuries, "Gunny" continued to command his tank until they reached safety. Following exhaustive rehabilitation and being medically discharged, Gunny Pop struggled to overcome the disabilities caused by his injuries while continuing to support his family. Come hear how Marine Corps mentality of "improvise, adapt and overcome" enabled this Silver Star recipient to prosper despite the handicaps resultant of brutal head injuries. He will also be signing copies of his book, Once A Marine.
Reservations
Tickets were originally $30 however; at this late date, the tickets are complimentary and will be available at the door and based on reservations – first come, first served. Should you wish to make a donation that evening, you may do so. We want to insure that as many people as possible hear this incredible story of commitment and dedication to the principles of this great country from an American who, through his own sacrifice, put country above self.
For reservations, contact Marine Parents corporate office (573) 449-2003 ext. 1.
If you would like to purchase your tickets, click here.
Hotel Accomodations
If you are coming in from out of town and need hotel accommodations, we recommend contacting the Courtyard Marriott at 573-443-8000 and asking for the Marine Parents rate.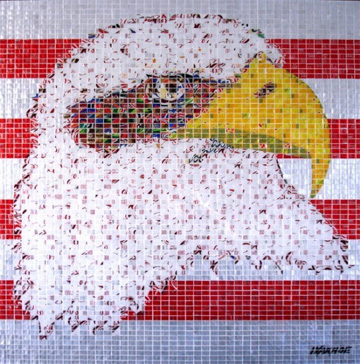 AluMosaic by Artist Jeff Ivanhoe
Silent Auction
We'll hold a silent auction during the dinner. Proceeds will go to Purple Heart Hero Support™, an outreach program of MarineParents.com. Bidding will begin at 6:00 p.m. and close at 8:00 p.m. The following items will be included in the silent auction:
Official Marine Non-Commissioned Officer sword
Marine Corps Challenge Coin Gift Set
"American Mascot" AluMosaic by artist Jeff Ivanoe
(Artist Jeff Ivanhoe's AluMosaics are made out of tiny pieces of soda and beer cans. The "American Mascot" AluMosaic measures 36" x 36". Price range for his artwork is between $3,500 and $10,000.)
Overnight stay and breakfast at the Courtyard by Marriott
Official ballot from the first Iraqi democratic election
For More Information
For more information about MarineParents.com, please visit our website
www.MarineParents.com
. For more information about Purple Heart Hero Support™, visit the website
www.PurpleHeartHeroes.com